REVIEW: THE LAST PILGRIMS By Michael Bunker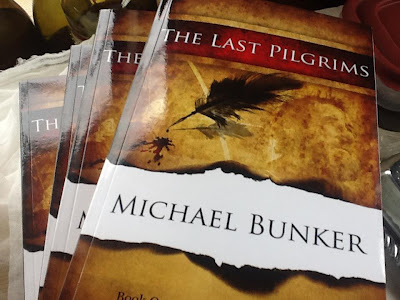 Most of you have heard me speak of Michael Bunker and/or his book 'Surviving Off Off Grid' from which many of the plans and designs of my home were implemented; including my much-coveted root cellar, and his help to further open my eyes to just how vulnerable a society we are with our world-wide dependency on technology and electricity. Needless to say it was difficult to hide the excitement of learning he had a new book in the works.  That book is now complete and I have been given the distinct pleasure of reviewing 'The Last Pilgrims'.
 As I scanned the amber and gold hued cover of The Last Pilgrims my eyes were immediately drawn to the quill pen.  Looking at it, I think back on how many times our lives have been changed with just the stroke of a pen - some for the good, some not so much. I note the blood stain and silhouette of a man and my curiosity is piqued.  Then I read, 'Book One of The Last Pilgrims Saga" and I smile knowing this book will only wet my appetite for more.
 It is my habit as a prepared-minded person when reading a book such as this book to try and interject myself into the story line as a 'preparedness exercise'.  With The Last Pilgrim it is not difficult to do so understanding the 'Michael Bunker' principals of 'less technical and more self-reliance and agrarianism'.
 In The Last Pilgrims the world as we know it, and the rest of the world for that matter, has finally come to an end. It is now twenty years after the collapse of the industrialized civilization resulting in mass depopulation.  Those who remain find themselves governed under the rule of King of Aztlan of New Rome.
 Although post collapse, most embraced this new world order, there were some who stanchly rejected it. The Vallenses, a non-violent deeply moral farming community and a group of militant 'freemen'; some of which were born after the collapse know only the life of a warrior,  were two such resisters - both for very different reasons and both sought by the King to be destroyed.
 The book chronicles this mismatched union of the leaders of the Vallenses and militant 'freemen', Jonathan Wall and Phillip 'The Ghost', respectively, as they fight their personal battles; one from within the other outwardly - each seeking the same goal - safeguarding their freedom.
 Just like the battle of good versus evil, in The Last Pilgrims Michael Bunker brings to the forefront the error in our present-day society's 'normalcy bias' way of thinking and our reliance on technology and equipment to get us through what most doubt will ever happen - a total societal collapse. He demonstrates through the Vallenses Community the benefit of education, knowledge and acquired skills for when, not if, a collapse will happen – in someone's future.
 Although the book is worded deep in what I refer to as "history language" (for those who actually paid attention in history class), it still has all the elements of a great book with strong characters, a relevant message, a little romance (grin) and those emotional ups and downs that keeps you turning each page until there are no more.  For these reasons and many more, I highly recommended The Last Pilgrims for your preparedness library!
Get your copy of The Last Pilgrims here:The Last Pilgrims (Volume 1)
For more information  www.michaelbunker.com  and www.lastpilgrims.com
- Survivor Jane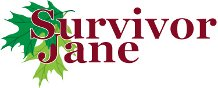 Thank you for sharing Survivor Jane with all of your friends!
If you liked this ... then you will love my book, "Emergency/Survival Hygiene: A Prepper "Cookbook" for Survival Personal Hygiene Products", "What Could Possibly Go Wrong??? How to Go From Completely Clueless to Totally Prepared" and my NEW Book "Puzzling Over Preparedness - Survivor Jane's Prepper Word Search Puzzles"