As some of you may know I am the creator and founder of the Twitter hashtag #PrepperTalk (@SurvivorJane). The hashtag was created out of a need to bring like-minds together to - as I say …'Share, Care and Prepare' in times of uncertainties.

While on Twitter one day I stumbled upon @SurvivalMD – "A preparedness-minded doctor!!" Jackpot!!! Immediately I "followed" him (the same as 'Friending' on Facebook) and invited him to use #PrepperTalk so other followers could gain in his valuable insight and knowledge of the medical field and preparedness. In his words, "Everyone deserves the chance to survive." "I think of this every time I see another disaster. There are probably people dying who don't have to." Now that's my kind of doctor!!! Just sayin'!
Since that time Dr. Hubbard or as I refer to him as – @SurvivalMD has shared numerous tips, suggestions and guidelines that could be used in a poo-hits-the-fan scenario where no doctors or medical care is available. He gives such tips as using honey as a substitute for antibiotic ointment (yes that golden liquid you drizzle on those yummy buttery biscuits can kill bacteria too) and closing a wound with duct tape (and the other million uses in a survival situation) - simple and effective remedies for disaster injuries.
Needless to say, I was thrilled when the announcement came that Dr. Hubbard had written two Interactive Survival E-Books Teaching 'Do-It-Yourself Medicine', which will be available Tuesday July 17th on www.TheSurvivalDoctor.com
Please keep in mind that these books are "NOT" to be used in the normal course of everyday living but instead are intended solely; as with any preparedness item, to be used in a case of a disaster or emergency survival situation where medical care is not available.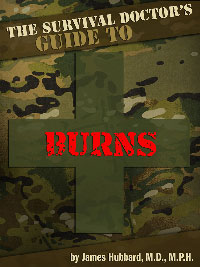 "The Survival Doctor's Guide to Wounds" some of the many topics touched on is Basic Care For Most Cuts, Advanced Care-Instructions for Specific Cuts, How to Keep Bacteria Our Without the Essentials and How to Make Your own Closures and Dressings; including supplies and materials that would need to be obtained beforehand to use in each situation.
"The Survival Doctor's Guide to Burns" addresses among others, the Four Steps to Treating a Burn During a Disaster, About Burn Depths, Three Burn Complications to Watch For, and How and When to Remove Dead Skin (I know, ewwww!). And, as with the Wounds Guide, this guide covers bandaging, dressings, sterilization for the burns as well.
For those of you not familiar with Dr. Hubbard, he has been a family doctor for over 30 years so he knows what he's talking about. He actually learning some of the "older tried and true remedies' from past patients. He also has a successful blog called www.TheSurvivalDoctor.com that educates anyone and everyone from preppers, homesteaders, hikers to mothers who may find themselves and/or their families without the assistance of a licensed medical professional in time of a disaster. His blog is written in user friendly easy to understand language (my kinda of talk!)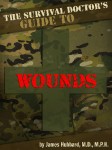 "The Survival Doctor's Guide to Wounds" and "The Survival Doctor's Guide to Burns" can be purchased here. Go to SURVIVAL PRODUCTS in the menus above and click on Survival Books.
Just sayin'.
- Survivor Jane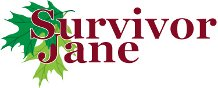 Thank you in advance for sharing Survivor Jane with your friends!
Contact Information for James Hubbard, MD:
Website: www.TheSurvivalDoctor.com
Twtitter: @SurvivalMD
Leigh Ann Otte - Communications Liaison
This e-mail address is being protected from spambots. You need JavaScript enabled to view it
If you have any questions, or would like to see a specific article addressing survival preparedness for women on www.SurvivorJane.com click here
Or contact Survivor Jane at This e-mail address is being protected from spambots. You need JavaScript enabled to view it
Follow me on Twitter @SurvivorJane Founder/Creator of the hashtag #PrepperTalk - a Prepper Community Effort!!
Main Menu
Get Your Tickets Now for 2017
NEW!! Prepper Word Search Puzzles
Advertisements