It's that time again - the network that started the 'doomsday' craze; National Geographic Channel, is rolling out Season Two of 'Doomsday Preppers'. And, once again, I have been given the opportunity to review the premier episode(s). Yes, I said episodes because there will be back-to-back episodes for the premier night, Tuesday November 13th beginning at 9 p E/T.
So many people have asked me in the past why I would give "Doomsday Preppers" a second thought when all the network seems to do is make "preppers" look like nut-jobs. And, my answer? National Geographic Channel has actually brought awareness to prepping by showcasing what we do and why we do it. Now granted the producers do seem to find the, er … 'interesting ones' (to say the least), but then that's what draws in the viewers and yes, ultimately sells commercials (TV is a business ya know).
You've heard good publicity or bad publicity it's still publicity? Well to me, Doomsday Preppers has given us a springboard in which to help educate people on how to be more self-reliant. Admit it if we were on the show it wouldn't be too exciting. Sensationalism sells – not boring preppers. So, with that said let me move on to my reviews.
On the first episode the first person we meet is Big Al – and big he is. Too big in my opinion, but I digress. Al is preparing for nuclear fallout from for a nuclear attack from Russia. As a historian of Russian history it is Al's belief that it's only a matter of time before there is an air strike by Russia that would only give us a 30 minutes window, or less if by submarine, to get to a safe destination. And in Al's case that would mean an underground bunker where he lives 3 months out of the years to "condition" himself. Although an attack is highly possible I actually see it coming from another Country other than Russia.
I really like this guy. Jason Beacham, is a 15 years old man in a kid's body. He has a great head on his shoulders and stays focused on his goals even in the face of naysayers - one of which is his own mother. His prepping journey began at the age of 11 while doing a research project. His eyes were opened to how just how fragile our economy actually is. Hampered by age and funds needed to properly prep, Jason creatively makes his own self-defense weapons and stashes food one can at a time from his mother's groceries. I say admirable. He also has recruited a few of his school friends, showing an understanding of the importance of strength in numbers. Watching Jason and his friend I couldn't help but think of the movie 'Red Dawn' and find myself cheering him along when defending his prepping. I too believe we are heading for an economic collapse and this is one kid that "gets it".
A whole prepper family? Wow! That was my first impression when seeing the Southwick family. There are six kids and, mom and dad who are prepping for … a terrorist smallpox attack. My excitement was short lived however after hearing some of mom Southwick's comments. Although she is on board with the prepping, she is more like hanging on to the side, on-board compared to being completely on-board. Which to me says 'weak link'. My mind immediately goes to "ball and chain" thoughts when I see and hear people like this. You can't be a "kinda" prepper or a "sometimes" prepper. Prepping is a lifestyle and it's all or none. Okay I'll step off my soapbox now. As far as a smallpox attack, it could happen, it's just not high on my list.
The second episode introduces us to Johnny O., the poster child for having back-ups for your back-ups. Johnny knows his stuff and understands the importance of prepping redundancy. His concern is a terrorist attack on our nuclear power plants. He lives with his wife, an infant, a 4 year old and his wife's twin sister. While watching, the small children made me question Johnny's his bug-out strategies a little. Although like other "disaster" scenarios an attack on a nuclear power plant is likely, it's just not high on my list.
Preppers, Wilma and Gary Bryant, are a piece of work. They live on a farm with daughter and granddaughter. They are preparing for a series of F-5 tornados which we know from the past and our unstable weather patterns is a likely disaster scenario. The Bryant's have their stock-piled food and supplies but what sets them apart from other preppers is that Wilma and their daughter are diabetic, which means they also have to stock-pile insulin. Diabetes is a huge concern for preppers. My suggestion to anyone who is prepping and is diabetic is to look into alternatives for insulin.

Last but not least, is Robert Earl and his wife, Debbie. They moved from Florida to the desert area of Texas with their 21 dogs. Yes, I said 21. Their concern is the melting of the Greenland ice sheet, which I don't see affecting us any time soon, but then you never know now do you? I think a bigger concern and challenge of living in the desert would be food and water but, at least they have access to some meat in a pinch.
Just sayin'
- Survivor Jane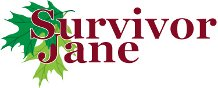 If you have any questions, or would like to see a specific article addressing survival preparedness for women on SurvivorJane.com click here
Or contact Survivor Jane at This e-mail address is being protected from spambots. You need JavaScript enabled to view it
Follow me on Twitter @SurvivorJane and use the hashtag #PrepperTalk to find the Largest Prepper Community on Twitter!
Thank you in advance for sharing Survivor Jane with all your friends and family!
Main Menu
Get Your Tickets Now for 2017
NEW!! Prepper Word Search Puzzles
Advertisements