Jake & Miller's Big Adventure
(A Prepper's Book for Kids)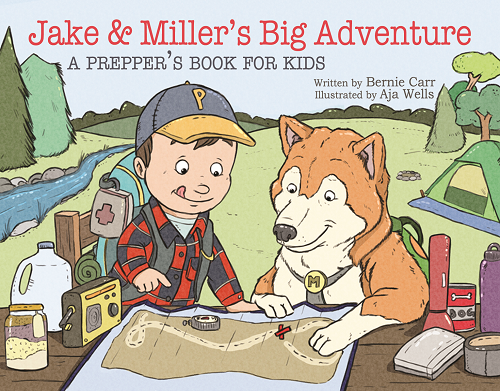 Jake & Miller's Big Adventure: A Prepper's Book for Kids
Paperback: 32 Pages (for ages 4 & up - Preschool and up)
Date Published: May 6, 2014
About the Book:
BEING PREPARED IS A TON OF FUN!  The world can be a scary place! There are snowstorms and mean snakes, hot jungles and wild rivers. But intrepid adventurer Jake and his dog Miller aren't scared —they're prepared! In Jake & Miller's Big Adventure, young readers discover it's never too early to start prepping. Learning how to use life-saving survival equipment like canned goods, water filters, first aid kits, Mylar blankets and emergency radios can keep you safe, healthy and happy even in the scariest of adventures—whether you're deep in the jungle or hunkering down at home.
About the Author: Bernie Carr is the author of the Prepper's Pocket Guide and the popular website ApartmentPrepper.com. She lives in Houston, TX. 
About the Illistrator: Aja Wells is the illustrator of That's Not Your Mommy Anymore. She lives in Paradise, CA.
Get your copy of "Jake and Miller's Big Adventure" here:
Jake & Miller's Big Adventure Blog Tour Reviews:
Homefront Books Steven C. Bird
Tara Dodrill - The Prepared Family
Practical Tactical - Randy Powers