Surviving An Urban Disaster
Quick-Start Guide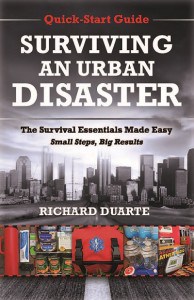 Surviving an Urban Disaster: Quick-Start Guide: The Survival Essentials Made Easy Small Steps, Big Results
Paperback and Kindle
Pages: 104
Published: October 14, 2014
About the Book:
Are you ready for the next hurricane, tornado, earthquake, flood...?
Surviving a disaster requires planning, preparations, and skills. Being prepared can save lives, but "getting prepared" can often seem like a daunting task. If you've ever wanted to protect yourself and your loved ones, but you just didn't know where to begin, this Quick-Start Guide is everything you need (and nothing you don't!) to help you survive a natural or manmade crisis. Think of it as urban preparedness made easy for everyday people.

In this Quick-Start Guide you get:
* Real-world survival basics in an abbreviated, user-friendly format.
* Survival essentials in an easy-to-understand outline.
* Simple step-by-step guidelines to help you get started with minimum effort, time, and money.
* Comprehensive lists of products and supplies to buy and store.
* Practical information without sensationalism, fear mongering, or drama.
* A handy reference and easy access to quick tips, ideas, and the information you need-when you need it.
Using this Quick-Start Guide, you can make significant progress in as little as a few hours. You don't need to be a survival "expert" to be prepared; you just need to focus on the things that really matter, and you need to get started. When the moment comes you will either be prepared, or you won't-the choice is yours.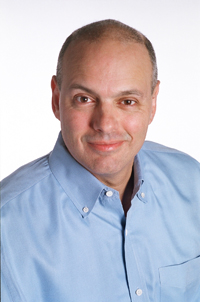 About the Author:
Richard Duarte is the author of Surviving Doomsday - A Guide for Surviving an Urban Disaster and the new Quick-Start Guide - Surviving an Urban Disaster. Richard lectures and consults in the areas of urban survival planning and preparation, and passionately promotes self-reliance and preparedness. He also writes for a number of publications including S.W.A.T. Magazine, OffGrid Magazine, and Prepper & Shooter. When he's not writing, speaking, teaching or thinking about urban preparedness, he's busy running his law office in South Florida. You can connect with Richard on Facebook, Twitter, and his blog survivingdoomsdaythebook.com
Get your copy of "Surviving an Urban Disaster" here:
Author's Contacts:
Website: www.survivingdoomsdaythebook.com
Facebook: www.facebook.com/SurvivingDoomsdayThe Book
Twitter: @surviving doomsd www.Twitter.com/survivingdoomsd
Google+: Richard Duarte
Surviving An Urban Disaster Quick-Start Guide - BlogTour Reviews: