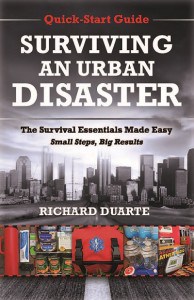 I enjoyed reading Surviving Doomsday by Richard Duarte and so, when I got the chance to review a copy of Surviving an Urban Disaster, I readily agreed.
The book correctly states that preparedness is a lifestyle. Like me, many people who discover this book will have been prepping for years, but as the subtitle tells you, this book is a quick-start guide, not a comprehensive manual. Surviving an Urban Disaster is the book you give to a friend who says, "I want to get more prepared, but how do I start."
The guide briefly covers the "Core Survival Elements," water, food, first aid, personal security, hygiene and bug-in and bug-out. In the section on food the author provides a list of food items to stock up on and lists the calories, protein and carbohydrates. While Duarte does not go in-depth, shelf-life and storage conditions are discussed. Each of the core survival elements has a chapter devoted to it with examples and suggested items.
Even though this book is not aimed at me I did enjoy reading it, and still learned things. The strength of this guide is in the lists it provides. Even if you have a bug-out bag it is interesting to see what others recommend be included. In addition to covering emergency supplies for the car, Duarte includes a chapter titled, "Getting Home (Bugging Back)." In this section Duarte discusses keeping some essential supplies in a nondescript bag at work. An excellent idea, and he suggests items to include.     
This book is true to its subtitle, it is a quick-start guide. If you, or someone you know, needs an introduction to prepping or lists to start or add to prep bags, I recommend, Surviving an Urban Disaster.
Book reviewer, Kyle Pratt is the author of Through Many Fires and the newly released A Time to Endure; of the Strengthen What Remains series.
Contacts: 
Website: http://www.kyleonkindle.com
Facebook: http://www.facebook.com/kyleonkindle
Twitter: @kyleonkindle www.Twitter.com/kyleonkindle