The Prepper's Blueprint
The Step-By-Step Guide To Help You 
Through Any Disaster - 
First Edition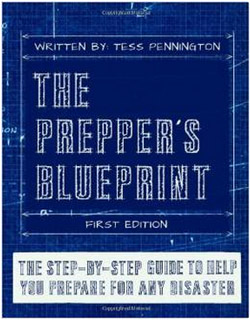 The Prepper's Blueprint - The Step-by-Step Guide to Help You Through Any Disaster - First Edition
Pages: 462
Published: May 17, 2014
About the Book:
Across the ages, in every survival story, a disaster of some sort plays a prominent role. Sometimes the part is played by the government, sometimes it is played by Mother Nature, and other times, the role is taken on by a random mishap. If we have learned one thing studying the history of disasters, it is this: those who are prepared have a better chance at survival than those who are not.
A crisis rarely stops with a triggering event. The aftermath can spiral, having the capacity to cripple our normal ways of life. Because of this, it's important to have a well-rounded approach to our preparedness efforts. Due to the overwhelming nature of preparedness, we have created the Prepper's Blueprint to help get you and your family ready for life's unexpected emergencies. To make a more comprehensive, easy-to-follow program, The Prepper's Blueprint has been simplified and divided up in a way to help you make sense of all the preparedness concepts and supply lists provided. We have divided the chapters into layers of preparedness.
Layer 1: Chapters 1-14, prepares you for those everyday disasters that have shorter-term effects: power outages, storms, injuries, and evacuations 
Layer 2: Chapters 15-31 help you to get ready for disasters that turn out to be much longer-lasting: economic collapse, long term power outages, and pandemics, to name a few 
Layer 3: Chapters 32-56 prepares you for the long haul and a complete change of lifestyle, the end of the world as we know it: providing food and water once supplies run out, security, retreat properties, and long-term plans
The goal of The Prepper's Blueprint is to help you find freedom through self-reliance, and ultimately, to get you and your family to a point where you can not only survive, but thrive, in a world that may be permanently altered.
About the Author:
For the last few years, many readers have asked me for a downloadable version of my online series, 52 Weeks to Preparedness. As much as I wanted to turn the series into a pdf, I wanted it to be more - much more. I wanted to add even more information and organize and transform it into a book that encompassed all forms of disasters - both big and small. I even changed the name to The Prepper's Blueprint to help readers understand that preparedness isn't just about having a plan, it requires drawing out a blueprint to set a preparedness foundation you can build upon and rely on when the time comes.
I believe that to fully insulate yourself from a disaster of any kind, you need to have a layered effect with your supplies. This will create a well-rounded approach and ensure that you are prepared for the smallest disasters to the most severe circumstances. 
This 462 page resource starts your preparedness efforts from the beginning two week disaster and takes you through, step-by-step, to more longer term disasters. Packed with expert advice, supply lists, skills building techniques and supplemental resources, this book is the most comprehensive preparedness resource available.
Get your copy of "The Prepper's Blueprint" here:The Prepper's Blueprint: The Step-By-Step Guide To Help You Through Any Disaster
Author's Contacts: