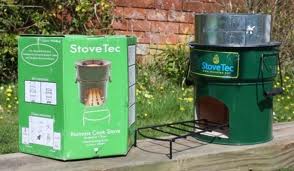 I had the opportunity to review a StoveTec - Rocket Stove (the mac daddy one) I was curious if I could use this stove as a back-up for my back-up preps.
When my StoveTec arrived I was surprised at how heavy it was. And no, it wasn't the green packing box it came in. It is heavy. Weighing in at almost 27 lbs. That may not seem heavy to you but try lugging it around. It's not its size that makes it heavy, its only 11" high by 12 ½ in diameter, the weight actually comes from the cast iron stove top.
Mine has a place of honour in my outdoor summer kitchen, which as most of you know, is where I do my cooking in the summertime – if you call grilling chicken, steaks and hamburgers cooking.
The beauty of the StoveTec; no not the pretty green color, which I must admit is a plus because it doesn't stick out in a natural setting, is that you can use sticks as your fuel. Stick sticks … like twigs, small branches, leaves, scrap wood; natural stuff … biomass fuels like grass, newspaper, leaves etc.
If you have sticks you can cook with this stove. No chopping down trees. No noisy chainsaws, big log splitters or woodcutters needed. All you do is gather your twigs and sticks and lay them on the little metal shelf that comes with the stove. This rack allows you to feed the sticks into the stove through the door as they slowly burn. And, to help concentrate the heat it comes with this great metal band that keeps the heat around your pot or pan while cooking.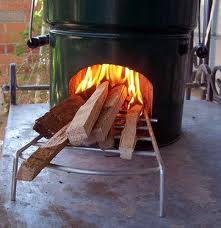 Just about anything you can do on a stove top in your home you can do with the StoveTec. Boil, fry, sauté, scramble, grill you name it you can do it …well that is if you know how. Even bake on it with your dutch oven.
Although I'm sure this stove for the most part is used for camping activities, as I mentioned before, my focus was more as a prep for when the poo-hits-the-fan for living off-grid. Think about it. How useful is that grill of yours going to be with no propane? Or the generator to run your kitchen stove when the gas runs out. Or further, your charcoal grill … yep where are you going to get more charcoal? Even though you can use charcoal with the duel StoveTec too - in fact the wood you burn will make a kinda homemade charcoal. What I was in search of was a stove that I could use what I had an abundance of … wood.
When I first used the stove I was absolutely amazed at how fast it was. You can boil water in 4-5 minutes. Did I mention this is with just sticks??? Also there is little to no smoke. Score!
Picture this. There you are cooking around your camp fire and sending up smoke signals pointing the way to you and your food - and me … hunkered down with my StoveTec enjoying a nice dinner of grilled chicken. Good luck finding me!
This stove is a no-brainer for the prepared-minded. If you are searching for an excellent off-grid stove, consider StoveTec. They have several different versions of their stove. But I'd highly recommend the duel wood/charcoal stove.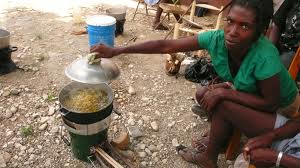 Plus, with StoveTec, you are doing business with a company on a mission. StoveTec's Humanitarian Project has shipped over 70,000 stoves internationally to third world countries where people cook over open fires; dying from inhaling the smoke emitted by open fires or unimproved cook stoves.. Their mission is to deliver clean and efficient cook stoves to the 3 billion people. So after ordering your own StoveTec Stove, for a $15 donation you can help this worthy cause as well.
Think about it. The people who use these StoveTec Rocket Stoves are people who "live" off-grid. Who better to learn from?
Get your Stove Tec Rocket Stove here:
Just sayin'.
- Survivor Jane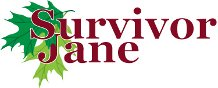 Thank you in advance for sharing Survivor Jane with your friends!
If you have any questions, or would like to see a specific article addressing survival preparedness for women on SurvivorJane.com click here
Or contact Survivor Jane at editorial@survivorjane.com
Follow me on Twitter @SurvivorJane and by using the hashtag #PrepperTalk where you will find a Community of Prepared-Minded People
Contact StoveTec
Website: www.stovetec.net
Twitter: @Stovetec