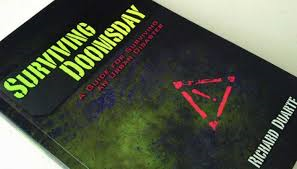 The author of 'Surviving Doomsday: A Guide for Surviving an Urban Disaster', Richard Duarte and I have a few key things in common. We are both from Florida; we both have experienced the devastation of a hurricane (for which neither of us was prepared); we both have backgrounds in the legal field and research; we both understand that the Government may not be able to come to our aid after a disaster and, … most importantly, we both have a desire to share what we know about preparedness and, let people know that preparedness is not just about buying survival items – but that it is a mindset – a lifestyle of developing skills and knowledge; one step at a time. With skills and knowledge just about anyone can come up with creative ways to find light at the end of any proverbial tunnel.
Have you ever asked someone who has just jumped in a pool … "Is it cold?"  Why would you ask such a question?  Because you are seeking information before you experience "the plunge".  You now can benefit from the knowledge obtained by the person who jumped in the water before you and can make a conscious decision as to whether it will be a mistake to jump in the pool or not. This is the approach used in 'Surviving Doomsday: A Guide for Surviving an Urban Disaster'. The author doesn't just tell you what he knows and then leave you to fend for yourself. He shares in the mistakes that he himself has made and experienced – and learned from. The book has detailed lists for your own preparedness supplies, with lots of resources and information on such topics food, water, first-aid, security/protection, sanitation and my favorite – fitness, in well organized and easy to understand terms, so that each person can make their own decisions - and go at their own pace and budget - as they begin to make their journey into preparedness, thereby, becoming more accountable and self-reliant.
Although the book's primary focus is on urban survival; I am now a rural girl living in the mountains of Western North Carolina; but I'm sure the author will agree, "You prepare for one disaster you prepare for them all."  No one is exempt from disasters – anywhere – rural or urban. Preparing is not about event specifics it's about having the means to care for yourself and family should you be faced with a disaster or catastrophic event. The author stresses that having something is better than having nothing at all. A can of tuna and some crackers can look mighty good when faced with no means to go out and get food after a disaster.
This is not another doom and gloomy – the sky is falling book. It is a reality-check book – an eye opener if you will - on what can happen when a natural disaster strikes and how man-made disasters can happen subsequently. The message here is that by having the basic survival needs covered, food, water, protection and shelter (or alternative shelter) we all have a better chance, than not, of "survival".
This book uses real life scenarios to show how fast things can happen and how to be both mentally and physically prepared for whatever may come our way. So, if you have city friends and neighbors, or any friends for that matter – I mean any friends who live in the city or rural that is - that find it easier to just keep their heads in the sand – then this is the book for them.
Get your copy of "Surviving Doomsday" here:Surviving Doomsday: A Guide for Surviving an Urban Disaster
 
Just sayin'.
- Survivor Jane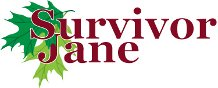 Thank you for sharing Survivor Jane with all of your friends!
If you liked this ... then you will love my book, "Emergency/Survival Hygiene: A Prepper "Cookbook" for Survival Personal Hygiene Products", "What Could Possibly Go Wrong??? How to Go From Completely Clueless to Totally Prepared" and my NEW Book "Puzzling Over Preparedness - Survivor Jane's Prepper Word Search Puzzles"
RELATED ARTICLES:
Book Review: W1CK by Michael Bunker
Book Review of 'Secret Garden of Survival – How to Grow a Camouflage Food Forest' by
Rick Austin (also known as the Survivalist Gardener)
Book Review of 'The Ultimate Survival Manual – 333 Skills That Will Get You Out
Alive' by Rich Johnson
Book Review of 'The Great Flaw' by Doug Carlsten
Book Review of ARkStorm by Ron Foster
Book Review: 2012 Armageddon Unholy Alliance
Book Review "Education After The Collapse" By Todd Sepulveda
Book Review of "The Survival Doctor's Guide to Wounds" and "The Survival
Doctor's Guide to Burns" by Preparedness-Minded Family Physician - James
Hubbard, M.D., M.P.H.
Book Review of 'Collapse' by Richard Stephenson
Book Review: 'How to Handle a Crisis: Handling Emergencies, Even When You're
Terrified' by Nat Geo Channel Doomsday Prepper - Dennis Evers and Dr. Roberto
Silva
Book Reivew: 'Solitary Man: Countdown to Prepperdom' by Ron Foster
Book Review: 'Plan and Prep: Surviving the Zombie Apocalypse' – Not just another
Zombie Book by Alex Newton
Book Review: 'Survival Mom: How to Prepare Your Family for Everyday Disasters and
Worst-Case Scenarios' by Lisa Bedford
Book Review - Etiquette for an Apocalypse By Anne Mendel
Book Review - The Last Pilgrims by Michael Bunker
Book Review of Survival & Emergency Preparedness Skills (SEPS) by Jay Blevins