I attended a press event hosted by National Geographic Channel for their 'new' reality television series 'Doomsday Castle'; a spin-off to their highly sucessful reality show, Doomsday Preppers, which premiers August 13th at 10pm ET. The event was actually held at the castle.
As I walked up the steep gravelly road leading to the castle; peppered with pot holes of carolina red clay from the recent rains, the merlons and crenels of the battlement (the high and low parts of the roof) began to appear just over the crested of the road. 
I've never actually seen a castle up close and personal so I wasn't exactly sure what to expect.  When I saw it, in all its glory, it was pretty breath-taking - I mean - straight out of a Monte Python movie.  In fact, I was a little guarded as I approached the castle, ready to take cover at the first sign of a cow, chickens or poo raining down on me from above - thankfully that didn't happen. But what did happen, was me along with about a dozen "by-invitation-only" members of the press were greeted at the castle's lowered drawbridge by a group of outdoorsy-looking men and women who - I had no doubt at the first sign of trouble - could kicked our ...fannies. 
We were invited in and all gathered in the great hall of the castle as the pater-familias, Brent Sr. introduced his off-spring - all tan and athletic from the hours spent outdoors honing their prepper skills.
The castle, not yet at completion, was still impressive by castle standards. The roof; absent in it's debute on Doomsday Preppers - Season 2, had been added giving the castle a greater sense of security. We were given a tour of the castle including; the bunker, bedrooms, kitchen, family room, exercise room and yes working bathrooms.
We also got to see some of the many security measures set in place for a quick escape of the castle including, but not limited to; a zip line from the castle down to a safe location deep in the woods, their LP/OP (listening post/observation post) nestled camoflauged in the woods, and rappelling off the top of the castle down the back and out to safety.
After spending time with the family, it was apparent, their focus was on skills and builds. Which is to say, if they wanted something they built it using their knowledge and respective skills to get it done (which I loved!)  Things like the homemade dehydrator that was hooked to an old exercise bike with fan to blow the air over the food trays, or the smoker to cook chicken made from an old stove, or the elaborate alarm system made from telephone wire, a light bulb, clothes pin and ...a spoon. And I won't even go into their perimeter defense systems! Just suffice it to say ... its amazing what a little paracord, some cut logs and rebar can do.
So, without giving any more good stuff away, let me share a little more about the family: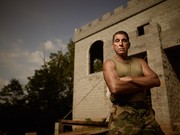 Brent Sris former military guy (if you couldn't tell that from his camo attire). After the Y2K scare he realized just how fragile our communication system (all interconnected to computers) and the power-grid are and what would happen should we be struck with an aired nuclear attack or solar flares. He began to focus his energy (and money) on prepping by building an EMP-proof medieval castle in an undisclosed location in the carolinas. He wants to protect his family, but also teach them (there are 10 children by the way) through his knowledge and skills so they can develop their own survival skills for uncertain times.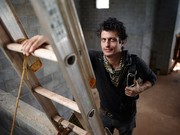 Brent II who is also known as B2, is the oldest son.  And, much like an only child who finds themself in the presence of new sibling (or 9 siblings for that matter) he now must work harder then ever (keep in mind I didnt' say work smarter) to prove his worth as firstborn son. After meeting B2 I likened him to "Chumley" on the reality TV series "Pawn Stars" which will definietly give a show with a very serious topic some much needed comic relief.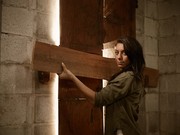 Ashley was my kinda girl. She shared with me her love of fashion and makeup. We exchanged girlie-girls tips such as using crushed blueberries for eyeliner - along with a few other essentials, so we can still look fabulous in an eotwawki (end-of-the-world-as-we-know-it) scerario.  But if you didn't know her before hand, you would see Ashley is every bit the prepper doing what was needed to get the job done. 
Lindsey is Ashley's younger sister by two years.  She is more of a business kinda girl; much like her dad (the business part that is, not the girl part).  She doesn't mind being called a prepper and in fact embraces it by using her knowledge of basic wilderness survival skill such as fishing, and identifying edible and medicinal plants. And, just as with most sisters close in age you will also get to see the competivie nature of Ashley and Lindsey come out in the show.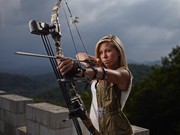 Dawn Marie is a sweetheart - she wears her heart on her sleeve.  But don't let that small frame and golden mane of hair fool you. She's a warrior ... and tough.  Whether it's using a cross-bow or rappelling down the side of the castle, Dawn Marie is a natural; believing as with her dad, that the end of times is near, and is willing to fight for survival by any means necessary.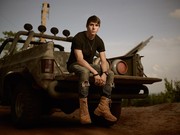 Michael, surprisingly, is Dawn Marie's twin. He is every bit his father's son - struck from the same mold. Hardworking, dedicated to the castle project and willing to learn and do what is needed to get things done.  He shares in his father's dream of completing the castle for the family and the generations to come. He, like his siblings, is skilled in the outdoors and is comfortable hunting using a firearm or a bow and arrows.
These are good people. Hard working people. People with morals and family values. Not nut-jobs, wackos, tin-foil hat wearers. Just normal people like you or I, who believe that bad things can and do happen, oh with that small exception ... they have an extraordinary bug-out location - a castle!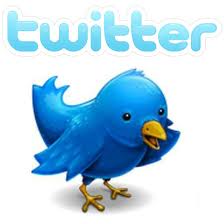 I will be hosting Twitter Tweet Chats for National Geographic Channel so fans can discuss Doomsday Castle on Twitter during the airing of the show - join in by click here #DoomsdayCastle - remember to add the hashtag #DoomsdayCastle on each of your tweets to comment.
To wet your apocalyptic appetite even more here is a glimpse at what's to come:
Doomsday Castle: Before the Flood
Premieres Tuesday, August 13
Brent Sr., a retired infantry officer, recruits his children to help him finish building his doomsday castle, a completely self-sufficient fortress of refuge for the end of days. His children are shocked at the conditions of the bunker, and Brent II even calls it a "hoarder's paradise." The first tasks are building a drawbridge for the front door and cleaning out the bunker, where the family will live during construction.  But before they begin, Brent Sr. unleashes a surprise attack by "marauders" intent on storming the castle.  All of the kids are forced to surrender, proving to Brent Sr. and themselves how unprepared they are in the face of a security threat. The family spends the first night together in the bunker, and Brent Sr. serves up meals-ready-to-eat (MREs), much to everyone's dismay. Once the drawbridge is completed, Brent II stages his own surprise attack and tests the strength of the drawbridge with homemade battering rams that he designed himself — will the drawbridge hold up or will it splinter and provide no defense for the family?
Doomsday Castle: A Stone from the Sling
Premieres Tuesday, August 20
With only MREs to eat, Brent Sr. challenges the kids to start looking for other food alternatives. Heading to a local chicken farm, Lindsey and Ashley attempt to catch their own chickens — a great renewable resource providing eggs almost daily.  But tempers flare as they start working on building a chicken coop to house the newest members of the family. Meanwhile, Brent Sr. and Dawn Marie build a catapult to be able to defend the castle from intruders. Michael and Brent II decide hunting is the best option for finding food. Michael, who is already a prepper and avid hunter, teaches Brent how to use the crossbow. The guys get ready for the big hunt and decide to go after wild boar, which live in the woods surrounding the castle. The entire family tests the catapult and then feasts on their new food options.
Doomsday Castle: Water from a Stone
Premieres Tuesday, August 27
Brent Sr. then sets up his children's next two key missions: learning military skills to fend off intruders with training by Military Mike, a retired Army Ranger; and creating a sustainable water supply by building a solar-powered water pump. Lindsey and Michael are first up for training with Military Mike while the rest of the family look for water to start their pump system. However, tensions intensify when communication breaks down and the family can't work together. Their military training is tested and things come to a head when a mock invasion pushes the family to their limits. In the end, the question of whether this family will survive each other, let alone the apocalypse, continues to linger.
But wait there's more! But you have to stay tuned ...
Just sayin'
- Survivor Jane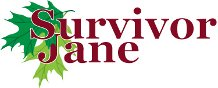 Follow me on Twitter www.Twitter.com/SurvivorJane (@SurvivorJane) and use the hashtag #PrepperTalk where you will find the Largest Community of Prepared-Minded People on Twitter
Should you be interested in purchasing preparedness items click here
If you have any questions, or would like to see a specific article addressing survival preparedness for women click here
For Sponsorship/Advertising Contact Information: sponsors@survivorjane.com