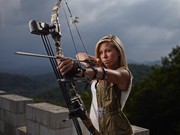 What do you do when you hear intruders driving up the only road leading to your castle from a 1/4 of a mile away and can't get in place in time to defend your family and castle?  Well … most might scatter like a bunch of roaches when the light's turned on - running in all directions to find a place to hide, but not Dawn-Marie and her Dad.  Nope.  They set out to build a trebuchet - a fancy French word for catapult (or at least it sounds kinda Frenchish) - a huge slingshot on steroids) and, then design an elaborate perimeter defense plan to pen in the bad guys; from front and back, to assure complete and total annihilation. That's just how castle people roll!
And, while Dawn-Marie and Dad are busy savaging up odds and ends around the castle yard to build their weapon of not-so-mass destruction, sisters Ashley and Lindsey are busy arguing over who has more dirt on their hands from a day of playing chicken with one another, while brothers, B2 and Michael go hog-wild in the woods hunting down anything and everything that moves; all in an attempt to avoid eating yet another MRE – instead coming up with an alternative food supply. But food is food right? Well sure if we are eating the food that we like and are used to eating.  But what if, the proverbial poo hits the fan and you like the Doomsday Castle clan are forced to eat what you have … your stock-pile of MREs - 3 times a day.  Don't think it will be such a bad thing?  Well try it sometime.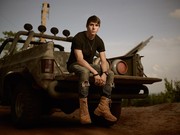 Food, just like all your other basic needs, water, shelter and protection, need backups for their backups. One of the worst things people will experience when the poo-hits-the-fan, is food fatigue. There is more to food than #10 cans.  Start looking for different resources now.  Watch how this family comes together to overcome their food boredom. 
Is that bbq I smell? 
Just sayin'
- Survivor Jane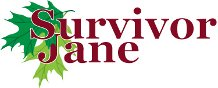 If you have any questions, or would like to see a specific article addressing survival preparedness for women on SurvivorJane.com click here
For Sponsorship/Advertising Contact Information: sponsors@survivorjane.com
Follow me on Twitter @SurvivorJane and use the hashtag #PrepperTalk where you will find the Largest Community of Prepared-Minded People on Twitter