Prepare for Anything - Survival Manual (Outdoor Life): 338 Essential Skills by Tim MacWelch
Paperback: 256 pages
Publisher: Weldon Owen (May 27, 2014)
Genre: Reference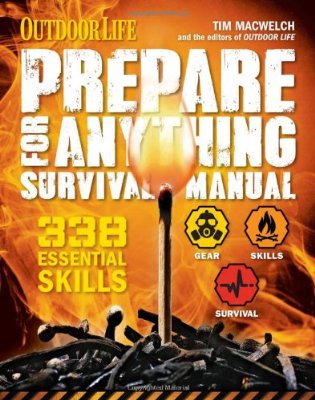 Are you preparing for the collapse of society? Concerned about making it through the next category 4 hurricane? Looking to be less dependent on an increasingly fragile infrastructure? If so, you are definitely not alone. In this timely follow-up to The Ultimate Survival Manual, Prepare for Anything is packed with hundreds of gear, skills, and survival tips and strategies to help you be ready for anything, from economic collapse and terrorism to natural disasters and government surveillance.
In the recent past, I have had the pleasure of reviewing "The Total Gun Manual" by David E. Petzal and Phil Bouraily" and, "The Ultimate Survival Manual" by Rich Johnson both co-authored with the editors of Outdoor Life. But, when the opportunity came around to review "Prepare for Anything Survival Manual" by Tim MacWelch, there was no hesitation! Caveat: This review is a little more than special because I actually had the pleasure of spending time with Tim at a media event and get to know him. First of all, although I understand the seriousness of survival preparedness and this review, I want to state for the record that categorically Tim is a funny guy. In fact, it was his humorous bantering throughout the day that made the event we attended enjoyable for a lot of people. On the flipside, Tim is a down to earth - nothing showy – kinda guy, who understands the importance of being well prepared for anything. He not only talks preparedness, he lives it. He is the owner and lead Instructor of Earth Connection School of Wilderness Survival and Ancient Skills where he uses his vast knowledge of nature, history and wilderness medicine to educate his students in all-things-outdoors.
We all know disasters come into our lives in many different ways. Tim's book discusses the basics needs necessary to deal with these disasters. "Prepare for Anything" is easy to read and understand, using terms that both a new prepper or those more seasoned can glean from. The book is divided into 338 different topics with three main sections, Gear, Skills and Survival. Each page contains 2-4 short topics, filled with eye-catching, brightly colored images and photos that draw you in as you jump from image to words and back again.
"Prepare for Anything" would be an ideal gift for a family member or friend who is not quite onboard with emergency preparedness or is a great reference guide to have in your preparedness library. It is written in a non-threatening, non-fear mongering way and is meant to be, as the book states, a "what-if insurance policy.
Get your copy of "Prepare for Anything" here"
Just sayin'
- Survivor Jane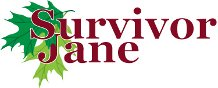 About the Author:
Tim MacWelch, founder and head instructor at Advanced Survival Training has had a love of the outdoors from a young age, growing up on a farm in the rolling hills of Virginia. Eating wild berries, fishing for trout and learning about the animals of the forest were an everyday part of his country life. Tim has been an active practitioner of survival and outdoor skills for over twenty-four years; and he has been actively teaching survival skills for the past 16 years. Tim and his wilderness school have been on Good Morning America and National Geographic, and featured in several publications including Conde Nast Traveler Magazine and the Washington Post newspaper. Tim has written articles for Outdoor Life magazine, The Virginia Sportsman newspaper, and for several blogs and online survival sites. At the beginning of 2011, Tim became the head contributor for the Outdoor Life Survival website, and providing them with 3 articles per week, every week."
Author's Contacts:
Twitter @timmacwelch
Facebook: https://www.facebook.com/pages/Advanced-Survival-Training/448287038527139
Advance Survival Training www.advancedsurvivaltraining.com
Earth Connection www.earth-connection.com
Email: tim@advancedsurvivaltraining.com
If you have any questions, or would like to see a specific article addressing survival preparedness for women on Survivor Jane website click here > editorial@survivorjane.com) 
For Sponsorship/Advertising Contact Information: sponsors@survivorjane.com
Follow me on Twitter @SurvivorJane and use the hashtag #PrepperTalk - Building the Largest Prepper Community One Social Media at a Time!
Twitter: https://twitter.com/search?q=%23preppertalk&f=realtime

Facebook: https://www.facebook.com/
Preppertalk Tagboard: http://tagboard.com/preppertalk