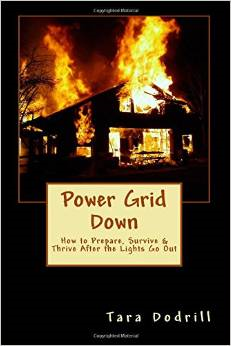 Whether you have been prepping for 20 days or 20 years, this book will definitely get you thinking!  You will also learn many ways to look at your preparedness items and find new ways to use them. 
Tara was able to not only inform and educate on the possibilities of EMP attacks, but also added new ideas and scenarios that I had never even heard of!  WOW did this really get me thinking and prompted some very interesting dinner conversations with family and friends.  I cannot tell you how many times her statement "According to the FAA, there are about 7,000 types of aircraft flying over the United States at any given time" has resonated in my mind, since reading her chapter on Weather Disaster, Solar Flares and EMP attacks.  You better have your water hoses handy because you KNOW there will never be enough resources to douse the flames of the simultaneous planes crashing and your kitchen extinguisher won't begin to touch that catastrophe!
I loved how Tara used her God given talents of teaching to address just about every aspect of not only getting ready for and surviving a grid down scenario but ANY situation we could be faced with. 
The information and examples she provides in many areas; natural medicine, food storage and gardening preps, got me thinking about new and different ways I can incorporate things I have heard of but felt were too complicated or daunting to try. I truly appreciated the fact that not only were essential oils explained as to how and what to use them for, but also easily broken down as to how to make these mixtures in a very easy way where even the domestically challenged, such as myself, can do it.  I get quite discouraged when I have all this 'stuff' and don't know what to do with it.  I learned many easy and new things through Tara's explanations.
The sections on trash bags, Mylar Blankets and Duct Tape had me realizing my stocks of these items need to be enhanced greatly.  
Her ideas and descriptions of Power Grid Down Careers really made me recognize just how much I do have to offer in an off-grid way of life and showed many other possibilities that I need to brush up on and consider.
One thing I found quite refreshing is the way she shows us how to involve the entire family in preparedness planning, practice and how to include your children in this important aspect of your life.  Everybody has a job, no matter how big or small.  I also enjoyed the chapter on Educating Your Children at Home & Morale Boosters.   Many may be in our situation of no longer having children at home but the importance lies in the fact that you may have children coming to join you.  Make sure you are prepared for that.
In conclusion, Tara Dodrill's Power Grid Down is a very well thought out informational and educational book with a nice, refreshing emphasis on family.  It is also easy to read and follow without the technical complexities that make one lose interest.  With its' wonderful resources, I will proudly include it in my prep library.
Jen E – Pioneer Preparedness
Power Grid Down - Amazon