Living on a homestead, a real homestead, as in far away from the blazing lights of a city, you soon learn just how the Aztecs and all those ancient civilizations were able to chart the stars. Where I live, at night, it is dark outside. Pitch black dark. Dark as in you can't see your hands in front of your face dark. And that can be pretty dah gone scary. Oh yeah sure you can see the moon and the ba-gillions of stars up in the sky, but that gives little comfort when what you really want to see while out in the dark is what is in front of you, beside you, and behind you. So, when Olivia and Dan of the Survival Hax store (http://survivalhax.com) asked me to review their new Tactical LED Flashlight I was game. I mean, who better to test a flashlight than me … always in the dark! If you have been to their site you know what I'm talking about with all their cool survival gear. And if you haven't ... well get to it.
The flashlight arrived in good shape. (Did I mention I live in a rural area? Sometime the postal service can be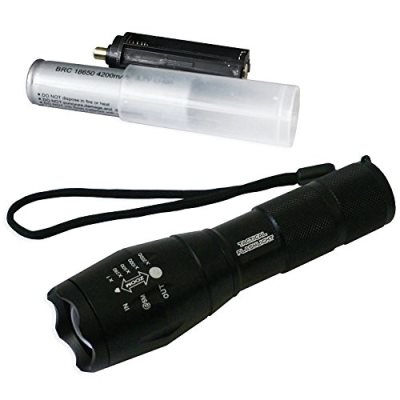 brutal on a box.) Inside was the flashlight unit made of aircraft aluminum alloy, a rechargeable lithium ion battery (which can be recharged over 2000 times and is supposed to last over 3 hours at full charge), a battery-charging unit, and an adapter that holds 3 AAA batteries as well. The features tout that the 10-watt LED bulb has the strength of 1000 lumens of light and a life of 1,000,000 hours (which means absolutely nothing to me.)
Now this stuff might seem kinda cool to you men folk, but I am not a gadget-nerd so all of this info was kinda wasted on me. What I wanted to know was one thing - how bright this baby was. Thankfully, my test run came on a cloudy night with very little overhead light.
Funny how noises in the dark sound more ominous than they actually are? Like a tree branch sweeping across the side of a building or frogs jumping in the pond all sound like a serial killer ready to pounce?
When I first turned the light on outside in the dark, my immediate thought was Close Encounter of the Third Kind. I mean the diameter of the light beam was huge – like a space ship like beam - huge. I felt like I was walking with a guardian light beam. Then I began to play with the other functions. The Tactical LED Flashlight has five different modes; high, medium, low, strobe, and SOS. Of course, it just had to be on strobe when my hubby walked out to see what I was up to, and as I turned to show him the light I nearly blinded him (*giggle*, sorry honey.) The flashlight also has a zoomable (is that even a word?) feature that you can zoom in or out to make a longer light beam; (they say up to 300 yards away but I didn't walk it off so I'm taking their word for it) or like I mentioned before, the "close encounter" beam.
I also liked the fact that the flashlight has an attached wristband so that my hands could be free to break my fall after tripping over something in the dark because I wasn't using the flashlight at the time.
The Survival Hax website states that you can drop the Tactical Flashlight from a two-story window, run over it with a truck, submerge it in a bucket of water, and smash out a window with it. Less the smashing out a window in an emergency, I really don't have the need to do the others; so I'll reserve these for you guys to try. All I cared about was one thing - would I be able to see what was making that ominous noise when I am out in the dark by myself. And, the answer is yes!
So all in all, I thought this was a great flashlight. I am not a techy person so if you were looking for some techno-gadget review … sorry to disappoint, it ain't happening.
If you would like to get your own Tactical LED Flashlight to investigate your own ominous noises, drop it from a two-story window, run over it with a trunk, submerge it in a bucket of water, or smash out a window, you can get it here Tactical LED Flashlight - High Power Torch Light is 1000 Lumens utilizing Cree technology - Durable Aircraft Aluminum Alloy for Self Defense, Police, and Military use - Rechargeable (Black)
Oh, and don't forget to check out other cool things at Olivia and Dan's store SurvivalHax.com too! - Just sayin'.