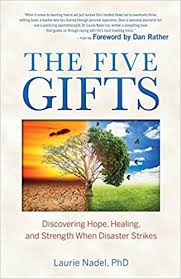 Anyone who knows me, has read my blogs, or heard me at a speaking event, will know that I am a huge proponent of mental preparedness in association with the "mainstream" preps of gear, skills, and knowledge. Therefore, when I was invited to review the new book "The Five Gifts – Discovering Hope, Healing¸and Strength When Disaster Strikes", by Laurie Nadel, PhD, I was intrigued. Firstly, Dr. Nadel was not what I would consider the stereotypical "prepper", and secondly, there just isn't that much out there on mental preparedness, by both a woman and a doctor, but even further, giving great instruction for how to cope after a disaster strikes.
Just as we find guidance for such events as the loss of a loved-one, abuse addictions, or trauma from a physical attack, I was primarily interested in how Dr. Nadel tackled guidance on what to do and how to do it, after a major catastrophic event, both natural or man-made strikes.

Unfortunately, we now live in a far different world than that of our great-grandparents, and possibly their parents as well. The earth is restless, as witnessed by the ever-increasing earthquakes, floods, blizzards, and weather changes, leaving some of us displaced and at times homeless. Moreover, as if these weren't enough, we also live in the day to day uncertainty as we go about our daily lives of living with the unknown of domestic terrorist attacks, seemingly more brazen with every attack.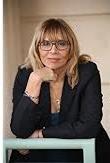 I loved learning that Dr. Nadel, personally experienced a natural disaster Hurricane Sandy herself. I mean, who better to explain what happens before, during, and after a natural disaster than one who has lived to tell about it, right?!. In her book, Dr. Nadel incorporates these personal experiences, and those of others who were impacted by such man-made disasters as genocide,( yes I just said that), to the attack on the World Trade Center.
I have always been slightly amused when others get on their prepper soap boxes and tout how you will/should feel before, during and after a disaster strikes, when in fact, none us of will truly know what the impact; if any, will be until we are in the midst of the event. In truth, most of us won't be mentally prepared for a disaster of any kind, no matter how prepared we think we are. However, what Dr. Nadel has done is provide you with sound advice on how to give yourself the mental fortitude; kinda like our preps give us security, nourishment and shelter, to assist you in dealing with the stressors and emotional roller coaster you could possibly experience after a disaster,through the five gifts of Humility, Patience, Empathy, Forgiveness, and Growth.

With Dr. Nadel's background in mental health, she is more than qualified to help you discover lessons on how to deal with acute stress from firefighters and law enforcement officers; creative ideas for emotional first aid; gives you the understanding of why it isn't fear mongering to contemplate future catastrophic events; and, a guide to self-care for acute stress adapted from instructions taken from SWAT.

The Five Gifts include such exercises as cognitive restructuring, meditating, creating meaning and purpose and a whole lot more to help better mentally prepare.
The Five Gifts - Discovering Hope, Healing and Strength When Disaster Strikes - is available wherever books are sold.

Like I say ... Preparedness is Not Just About Stuff. You have to be mentally prepared too!
Just sayin'
- Survivor Jane

For Information and Tickets to Prepper Camp the largest 3 day outdoor preparedness event in the country go to www.PrepperCamp.com
Thank you for sharing Survivor Jane with all of your friends!

If you liked this ... then you will love my book, "Emergency/Survival Hygiene: A Prepper "Cookbook" for Survival Personal Hygiene Products", "What Could Possibly Go Wrong??? How to Go From Completely Clueless to Totally Prepared" and my NEW Book "Puzzling Over Preparedness - Survivor Jane's Prepper Word Search Puzzles"

If you have any questions, or would like to see a specific article addressing survival preparedness for women on Survivor Jane website click here > editorial@survivorjane.com

For Sponsorship/Advertising Contact Information: sponsors@survivorjane.com

Follow me on Social Media (all links on the side bar) or do a search for Survivor Jane! Don't forget to use the hashtag #PrepperTalk - Building the Largest Prepper Community One Social Media at a Time!