Okay admitted it - who doesn't like peanuts??? I mean, we Americans consume more than 2.4 billion pounds of peanuts every year!
So, someone must be eating them!
For me?? I love anything that has to do with peanuts. Peanut brittle, peanut butter, peanut butter cookies, peanut butter and jelly sandwiches, peanut butter fudge, peanut clusters, cocktail peanuts - hey I sound like that Forest Gump guy and his shrimp! Boil shrimp, grilled shrimp ...
Eh, uh … okay back on track.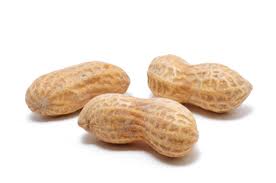 Did you know that peanuts have 25.8% protein (7 grams) in those little gems? How'd you like to have that when food is in short supply? A tablespoon or two of peanut butter could carry you a long way. And in fact, is the calorie equivalent of a turkey sandwich!

So, as always, I pondered, "Should the world as we know it go ka-put or for some reason or another and we couldn't get our peanut fix, how hard would it be to grow them?"
Guess what? Here's the good part. It's not hard at all to grow them if you live in Alabama, Florida, Georgia, North Carolina, Oklahoma, South Carolina, Texas or Virginia. I know!! Right?
Peanuts are warm-weather perennial vegetables. Huh? Okay in girl-talk I forgot. I mean, they grow year-round and are - well in the pea family – get it? Pea … nut? *giggle*
They are usually planted in the garden 3 to 4 weeks after the last frost date in spring, when the soil has warmed to at least 65°F. But, you can be a head of the game by starting them in doors for about a month or two and then transplanting them outdoors. Oh, to make sure there is enough for you, plant at least 10 to 12 peanut plants per person in your household (or at least say you have a lot of people and plant them all for yourself! We do love peanut butter after all!)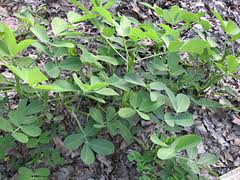 You harvest peanuts after the first fall frost by pulling the entire plant out and allowing the peanuts to dry in full hot sun for 4 to 7 days. Then, pluck off the peanut shells, roast and eat up! Hmmmm yummy!
The peanuts should be stored in a cool, dry place. They will keep fresh indefinitely when stored in a tightly closed container in the freezer. Oh, but don't forget to save some of the raw peanuts for seeds for next year.
Now to the good and yes, easy part - making peanut butter.
Shell about two cups of peanuts and roast them with a scant bit of oil in a frying pan, and heat over medium low, then increase your heat to medium, stirring constantly. When the nuts have browned appropriately, take them off.
To make one quart of peanut butter you will need about 2 cups of shelled peanuts. Add your peanuts to your blender or food processor, and start chopping away. You will find along the way, you may need to scrap the sides to make sure all the peanuts are chopped. Then add about 1 to 2 tablespoons of vegetable oil for every cup of peanuts (peanut oil is best, obviously, but any neutral flavored oil, like sunflower or canola oil works).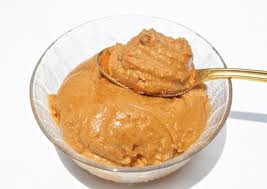 Viola! You have peanut butter that even a non-cooking girly-girl can make – and impress your BFFs!
Spoon the peanut butter into a jar and seal and put it in your refrigerator (it should keep for a month or so.) Or to keep in indefinitely, put it in your freezer and use it as you need it. Either way, you may need to stir the peanut butter to mix the oils back in as they tend to separate over time.
To can the peanut butter (as in preserving), fill a clean mason jar full of the peanut butter, leaving about an inch of space at the top. Simmer at 180 degrees for one hour in a water bath container. If the oil starts to separate and rise to the top, just turn the jar upside down.
Doesn't get any easier than that sister!
Now, can I have a nutter butter please???
- Survivor Jane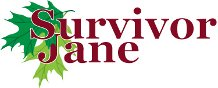 Thank you in advance for sharing Survivor Jane with your friends!
If you have any questions, or would like to see a specific article addressing survival preparedness for women on SurvivorJane.com click here
Or contact Survivor Jane at editorial@survivorjane.com
Follow me on Twitter @SurvivorJane and use the hashtag #PrepperTalk where you will find the Largest Prepper Community on Twitter!