Have you given any thought to fire as a weapon? I mean, it's really hard for me to fathom that someone would deliberately set a fire, just to set a fire, without some underlying motive. Why would they? Well, besides those with pyromania; the impulse control disorder, where people set fires just because. Which, honestly I can't really understand that either. At least with pyromania, the person has a reason – kinda, like as a release of tension or instant gratification? Like "Hey look what I accomplished" sort of gratification. (No hating here, just trying to understand why people do the things they do). Besides, pyromania is different from arson. Arson is the deliberate setting of fires for personal, monetary, or political gain. That is what I'm talking about here - the motivationally driven fire setting – as a strategic weapon.
In, Fire As A Weapon In Terrorist Attacks, author Joseph W. Pfeifer states that "the use of fire for criminal, gang,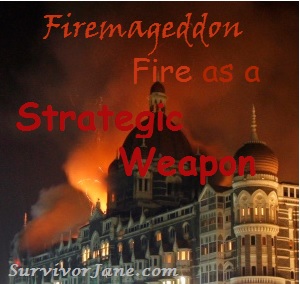 and terrorist activities, as well as targeting first responders, is not new." Gulp. It's a given a fire, or even shouting the word "fire" gets our attention pretty fast due to our innate and natural fear of fire. And yet for most, we tend to discount fire when as a form of attack.
Fire was used as a weapon by the Japanese against the United States in World War II, by dropping balloon bombs on the West Coast.
In 2008, there were the attacks in Mumbai, India, setting fire to the Taj Mahal Hotel. Then, closer to home, at least in our hearts, was the fire set at the embassy, on in 2012, killing American ambassador Christopher Stevens in Benghazi, Libya.
Fire as a weapon, by itself or along with other tactics, could present huge challenges for preppers and retreats. There is a huge potential for mass casualties, the loss of our home, gear, food, and health,… if we survive.
We could totally lose focus of our situational awareness when seeing that first flicker or ember from a fire. Instantly we would go into first responder mode – totally forgetting about perimeter defense and security - dropping armaments for buckets of water and hoses – and leaving ourselves exposed, and victims to an armed attack, the destruction of our retreat and smoke inhalation.
To most, weapons are guns and knives. However, fire as a weapon, should be examined more closely in our preps, and effective tactics and procedures discussed as a form of counter-defense. More than likely, a fire would totally catch us off guard or distract us; it can easily be set or started with different mediums and done inexpensively with little to no training, resulting in complete devastation and destruction. Not to mention, our alternative food source of wildlife could be destroyed, along with our cover from the woodlands, and yes, our homestead animals.
Fire as a strategic weapon could appear in different forms. A gas can or container filled with fuel, a gas truck plowing into a structure, wildfires; which is what spurred this article in the first place and, even blow torches. The instigator can be a lone wolf or working in a pack, and fire can be used in association with other tactics and attacks.
This weapon strategy is real. In fact, Al Qaeda's Inspire magazine published an article in 2012 with instructions on how to build "ember bombs" to turn the forest of Australia, Europe, and the U.S. into raging infernos.
Wildfires have been on my prepper mind, as I have watched how our little community dealt with the raging fires in WNC that has consumed 8000 acres and, forecasted to burn for several more months. Yeah, I said months. The authorities think it was arson, but by who? Deliberately or accidental?
I personally don't know of any "prepper fire defense plans." Maybe we should all consider one in our preparedness plans. Predetermine who will do what, to assure there is proper coverage for perimeter defense, with less confusion. And, others to fight a fire. Practice off-grid fire drills. Have water catchment systems strategically place around your property for such attacks. Consider fire retardant clothes, like pants and jackets to grab and go. Remember fires burn flesh too, so not only do you want to put out a fire, but avoid injury as well.
The FDNY, NYPD, FBI's New York SWAT team, Department of State's Diplomatic Security Service, the Mobile Security Deployment, Diplomatic Security Service, London Fire Brigade, National Counterterrorism Center (NCTC), Department of Homeland Security Office of Intelligence and Analysis, Department of Defense's Combating Terrorism Technical Support Office, New Mexico Tech's Energetic Materials Research and Testing Center, Homeland Security and the State Department; to name a few, have all begun implementing fire protection systems and strategies in their fight against terrorism by strategic fire weapons.
I've always said, if the government is doing it we should be doing it too. – Just sayin'.
- Survivor Jane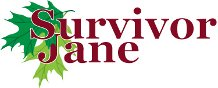 Thank you for sharing Survivor Jane with all of your friends!
Sources:
https://en.wikipedia.org/wiki/Pyromania
https://www.ctc.usma.edu/posts/fire-as-a-weapon-in-terrorist-attacks
https://medium.com/homeland-security/unleashing-hell-fire-as-a-terrorists-weapon-4fa5912a9adb#.emm6jy4tu
If you liked this ... then you will love my book, "Emergency/Survival Hygiene: A Prepper "Cookbook" for Survival Personal Hygiene Products", "What Could Possibly Go Wrong??? How to Go From Completely Clueless to Totally Prepared" and my NEW Book "Puzzling Over Preparedness - Survivor Jane's Prepper Word Search Puzzles"
If you have any questions, or would like to see a specific article addressing survival preparedness for women on Survivor Jane website click here > editorial@survivorjane.com)
For Sponsorship/Advertising Contact Information: sponsors@survivorjane.com
Follow me on Twitter @SurvivorJane and use the hashtag #PrepperTalk - Building the Largest Prepper Community One Social Media at a Time!