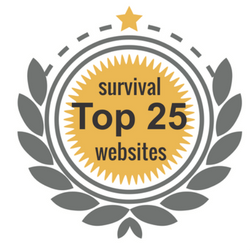 I was so excited to learn that Survivor Jane was named in the
Best Survival Websites - Top 25 Sites to Keep You Safe When Disaster Strikes in 2017 by
LiveOutdoorsy.com;
a website that lives up to it's name by bringing articles and information on outdoor living, hiking, crossfit, camping, hiking, and athletic gear.
I am both humbled and honored to be mentioned with these other great educators.

The editors at Live Outdoorsy, began their quest by asking themselves the question, "When a natural disaster or life crisis comes your way do you feel prepared to protect you and your family? Its a question, that they self-admittedly have wrestled with from time to time; as have most of us, if we're honest with ourselves.

They go on to say, that often there are fears of such things as terrorism, to tornadoes, to deep economic depression or inflation. Again, most of us have had these fears too, right?

But, with all negatives considered, their recommendation as the best way to combat these fears is with proper preparedness and practice for, if and when, that worst case scenario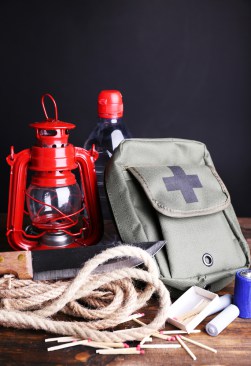 comes.​

The main concern Live Outdoorsy had when they embarked on their quest to find the top 25 survival websites​ on the web today, was whether you are a seasoned survivalist or a novice learner, you would be able to find just the right site for your particular situation in these named websites. Whether for the average Joes, hardworking moms, and grandfathers fearing economic disaster on our coming generation, these websites will provide you with the information you need to prepare successfully.

And I agree, survival and prepper websites are not all the same. In fact, that is why I initially created SurvivorJane.com, because a lot of the sites available at the time I began my preparedness journey were a little to "man-sy" and dark for me, and focused more on guns, ammo and gear, which by the way, there is nothing wrong with any of these, but it was a little confusing to those of us who are just learning and have to spend more time looking things up than actually learning anything. What I try to do on SurvivorJane.com, is to share the information I have learned or my trials-by-fire, in a more conversational tone. To me, its a little more "non-threatening".

As most know, preparedness education is my mission and passion and I am very grateful to and to all the many supporters of SurvivorJane.com for making it one of the sought out preparedness websites for preparedness and survival information.

After all, "We're All In This Together!" - Just sayin'.

- Survivor Jane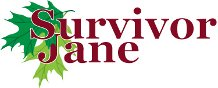 If you liked this ... then you will love my book, "Emergency/Survival Hygiene: A Prepper "Cookbook" for Survival Personal Hygiene Products", "What Could Possibly Go Wrong??? How to Go From Completely Clueless to Totally Prepared" and my NEW Book "Puzzling Over Preparedness - Survivor Jane's Prepper Word Search Puzzles"

If you have any questions, or would like to see a specific article addressing survival preparedness for women on Survivor Jane website click here: editorial@survivorjane.com

For Sponsorship/Advertising Contact Information: sponsors@survivorjane.com
Follow me on Twitter @SurvivorJane and use the hashtag #PrepperTalk - Building the Largest Prepper Community One Social Media at a Time!