My family moved to Central Florida in 1960, just in time to experience Hurricane Donna, a category 3 hurricane with sustained winds of upwards of 115 mph. This stormed raged in the Atlantic for a total of 17 days - wrecking havoc along its path - killing upwards of 300 + people when it was all said and done.
I distinctly remember the bath tubs being filled in our home with water and the darkness from the boards placed over windows. I was two years old. My first "survival" experience.

Since that time I have endured many more storms – sometimes back-to-back as in 2004 when we had five named storms that made landfall; three of them with at least 115 mph sustained winds.

Even with first hand knowledge of the kind of the damage a storm can bring, there still seems to be complacency about preparedness and storms. We know what needs to be done. We know it takes time to prepare our home and gather supplies. We even have estimations as to when the storm will arrive with all our modern technology. And yet we wait until the last minute.

I am a preparer. Okay, possibly bordering on hoarding - after all how long is "an unknown time" (not to worry I'm in therapy for it ha!). But all kidding aside, most of the people I see around me are like geese – they wake up in a different world all the time. When they see or hear that a disaster is eminent then they react. Not respond mind you, react. Responding takes thought, time and preparation. What happens when people react to a storm is long lines form at big box stores and anything that resembles hurricane preparedness items are cleared off the shelves instantly like termites to a new fallen tree. Then, what isn't hurricane preparedness items but would suffice in a pinch, fly off the shelves next. Then when panic really sets in at the realization there is no plywood, water, batteries or can goods left, people begin to improvise. They purchase food items that clearly need to be kept refrigerated or baked or a can opener to access (and they forget they don't own a manual can opener) all for the sake of "having something to eat" during the storm because those are the only things left in the stores. I've witnessed visqueen plastic over windows taped with duct tape no less which as anyone "should" know in 115 mph winds is like holding a Kleenex up in a shower. Useless.

I've watched in amazement time and time again. It's call procrastination. Unfortunately this creates a dangerous situation for everyone - and panic. Panic by its very definition is a sudden fear which dominates or replaces thinking ... and typically occur in disaster situations.
My whole point is this: The world watched in horror as Hurricane Katrina reared her ugly head. We all witnessed the weeks, months and years of despair, heartache and repair. We don't have the luxury to 'know' when the next disaster will befall us. But my feeling along with many others is it will sooner rather than later. The storm is approaching. What kind of storm, albeit economic, disaster, or pandemic who knows. We need to prepare. We need to think. We need to respond. Everything that we have learned and read we need to start applying and putting into practice.

As hurricane season is now once again upon us, and having witnessed my world without electricity, long lines at the gas pumps and people wrapped around stores in an attempt to buy ice, I am once again reminded that survival planning needs to be an every day event. Luckily we know when a hurricane will approach. Unfortunately that's not the case with the disasters that lie ahead. Learn to respond not react.
- Survivor Jane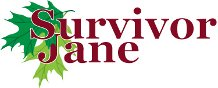 Thank you for sharing Survivor Jane with all of your friends!
If you liked this ... then you will love my book, "Emergency/Survival Hygiene: A Prepper "Cookbook" for Survival Personal Hygiene Products", "What Could Possibly Go Wrong??? How to Go From Completely Clueless to Totally Prepared" and my NEW Book "Puzzling Over Preparedness - Survivor Jane's Prepper Word Search Puzzles"
Related Articles:
Second Chance at Life – What Will You Do With It?
Hurrying up and Wait (The Disaster that Never Comes)
When Things Aren't as Bad as They Said it Would Be
Band-aids and Beans and Bullets … Oh My!
Survivor Vice Grip - Did You Know Vices Can Save Your Life?
What if Tomorrow a Disaster Actually Did Happen?- (Preparing Today for Tomorrow)
Following Your Gut Instinct
Words Can't Describe It - (Visualizing a Disaster)
I think I can... I think I can - (Mental Preparedness)
Life is a Stage – (Practicing for Survival)
Afraid of the Dark? (Surviving in the Dark)
Do you have any spare CHANGE? - (Did you know it takes 21 days to CHANGE a habit).
"The Suddenness of the End" - (Our Mental State of Mind)
What is so Golden about a Horde? - (The Golden Horde - Mass Exodus after a Disaster)
What a Great Personality! - ('Knowing Your Disaster Personality)
Get Your Head Outta the Sand! – (Public Awareness Regarding Disasters)
How to share 'Your Secret' - (Sharing with Others How to Prepare for a Disaster)
I can't Stress it enough (Survival under Stressful Conditions)
Going It Alone - (When You are the Only Family Survivor)
Red Rover Red Rover - (Teaming Up with Like-Minded Survivalist)
Dress Rehearsal - (Preparing for Life after a Disaster)
Prepare Like There's No Tomorrow - (When the 'Poo' Hits the Fan)
'B'-ing Prepared (Make sure you are stocked with Beans, Bullets, and Band-aids)
Thank you for sharing Survivor Jane with your friends!
For more information on Survivor Jane recommended products and services click on Survival Products above.
If you have any questions, or would like to see a specific article addressing survival preparedness for women; or if would like to submit an article or blog for review and possible posting on SurvivorJane.com click here