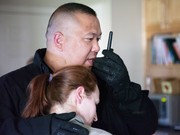 The first prepper we meet is Jay Blevin, a suburbanite in Virginia. I have to say Jay has it going on. He is a retired police officer and well, he 'gets it'. His main concern, as with a lot of us, is social disorder after an economic collapse.  As a suburbanite, you would think his huge 4,000 sq foot home would pose an enormous problem with angry crowds and mob violence. But this doesn't deter Jay in his prepping at all. In fact, he has used his residence as an advantage and leverage by incorporating a unique plan of action - including the 'circle of force'; a graduating use of defense that starts with a lesser use of force and progresses all the way to lethal force, all with the support of family and his tightly-knit prepper group. To me Jay is pretty close to the ultimate poster child of the suburban prepper. There is nothing "tin-hat" about him, or his family or prepper group. Everything is thought out, including creating a defensible home with security modifications to the house's lower story windows to taking refuge in the upper portion of the home. Jay and his group get together at least one a month to discuss different scenarios then, instead of just talking about them, they all practice them, a lot. This is the type of group I would love to be a part of!
Next we meet, Brian Murdock of Massachusetts. He feels there could very well be a Third World War in our future, and yes, he could be right. He lives in a moderate sized 1,200 sq foot apartment, which I thought at first would be a huge security issue. But soon learned that he

actually has plans to bug-out to his newly acquired 50 acres in his newly purchased RV. I was really feelinggood about Brian plan until well until … (record player needle scratching over the album) ... in walks his mail order bride – long distance – woman of his dreams from Columbia. As if the cultural differences aren't enough – before this lady had time of get acclimated to her new state-side life, she is thrust into prepperdom. Her life of living the good life has now been reduced to outback living. Will it work? We'll see. 
Lastly is Bryan and Lacey May. They live in the mid-west and are concerned about an earthquake of the New Madrid fault. I thought their food stores was awesome – 4 years' worth of food!  It was amazing – although most cans were in bulk form, which I always suggest be

broken down into smaller portions – I mean who eats a huge #10 can of green beans, right?  Just sayin'. They also had their solar panels, silver and gold, and battery banks.  But what was more impressive to me than the food is Bryan's talent for bartering. This in my opinion is huge. We all have and need stuff. When and if the poo hits the fan, bartering whether its gold and silver or alcohol or eggs and milk could be the fare of the day. So, if you don't know how to barter, why not start slowly by say, going  to a yard-sale to get yourself comfortable in negotiations. This way if you ever meet up with the likes of a Bryan-the-Barterer you can hold your own! 
Just sayin'
- Survivor Jane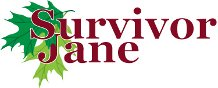 If you have any questions, or would like to see a specific article addressing survival preparedness for women on SurvivorJane.com click here
Or contact Survivor Jane at editorial@survivorjane.com
Follow me on Twitter @SurvivorJane and use the hashtag #PrepperTalk to find the Largest Prepper Community on Twitter!
Thank you in advance for sharing Survivor Jane with all your friends and family!