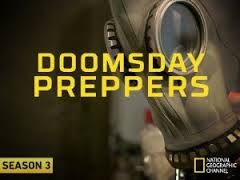 This Season's Doomsday Preppers is touted as having Bigger Builds, High-Tech Survival Gear and more Extreme Bug-Out Plans than ever before by what Nat Geo is calling "Prepper-MacGyvers".  There will be more tricked-out doomsday survival machines, high-tech shelters and specialized escape routes.
We'll meet a family prepared to fend off a nuclear strike and join them as they execute their risky backyard escape route — a 140-foot-long underground tunnel that's just 2 feet in diameter; an Alaskan family who believes that their key to survival lies at the bottom of the freezing cold sea; and, a Tennessean who has created the ultimate bug-out vehicle — a school bus converted into a mobile safe room that is said never has to stop because it runs on debris converted into fuel. 
 Here's this season's line-up:
Doomsday Preppers: Take Our Country Back
Premieres Tuesday, October 29 at 9 p.m. ET/PT
Deep in Oregon's backcountry sits an 80-acre off-the-grid estate that prepper Curt and his family have designed as a fortress in the event of an economic collapse. Isolation is one of their greatest strengths, but the protective measures are endless: a 3,000-square-foot greenhouse, a lake with 1 million gallons of water, infrared cameras and a high-tech software system — not to mention the children are trained in marksmanship. Now, Curt is working on his next prep — turning a regular truck into a high-speed armored vehicle. But while the cameras are rolling, Mother Nature strikes and the entire property is under an immediate threat. In Alaska, Rodney is preparing for a cataclysmic earthquake and the towering tsunami that could follow. With military training, an extensive food supply and an extreme bug-out vehicle named "War Machine," Rodney is confident he's on the right track to surviving Doomsday. He's even devised a unique underwater cache system to sustain his family in a resource-scarce community — but concerned that the public will be unable to refill scuba tanks after a disaster, Rodney devises a tankless scuba system. 
Doomsday Preppers: The Fight Ahead
Premieres Tuesday, November 5 at 9 p.m. ET/PT
Prepper Chad believes that a nuclear strike resulting in a genocidal siege is a real possibility. At his home in Arizona, he is working on executing the biggest prep of his life — a 140-foot-long escape tunnel from his family's house to a bug-out vehicle. With the help of his wife and daughter, he begins construction — but as the project unfolds, they realize they're in over their heads. And in North Carolina, Mike and his family are prepping for a devastating chemical and biological attack. A former member of the Special Forces, Mike runs an ATV park, but out back, he has prepped it as the perfect bug-out spot. With an assault rifle–fitted ATV and a mobile chemical attack tent, Mike believes a rapid response time could be what keeps his family out of harm's way.
Doomsday Preppers: We are the Marauders
Premieres Tuesday, November 12 at 9 p.m. ET/PT
While many preppers believe defense is the best strategy for surviving a Doomsday scenario, one family in Tacoma, Wash., is banking on a good offense. Tyler, his wife and his cousin have assembled a group of like-minded, would-be marauders from their neighborhood in preparation for a catastrophic domestic terrorist attack. They have only six months' worth of food because they plan on taking what they need in order to survive — and to stay safe, they're developing the ultimate suit of armor. The homemade protection will be bulletproof, lightweight and stronger than anything sold in a store — hopefully an ideal defense mechanism if martial law is enacted and civility goes out the window. Meanwhile, Kevin believes that cooperation and sharing among neighbors is critical to survival. He's decided that the best way to bug-out is to flee the country — that's why he moved his family from Kansas to Costa Rica. In an effort to become more self-reliant, Kevin is planning to ramp up his food production with the ultimate aquaponics system and, if all goes as planned, he'll survive Doomsday with a never-ending supply of fresh fish and vegetables.
Doomsday Preppers: Total Destruction
Premieres Tuesday, November 19 at 9 p.m. ET/PT
A devastating EF-5 tornado, like the one that struck Oklahoma in May of this year, can throw buildings into the air and hurt hundreds of people. In Tennessee, Tracy is preparing for just that. Tracy has spent six years prepping his farm for a super tornado, but if it does hit, he doesn't plan on hunkering down — he plans on gathering his family and making a getaway in his mobile safe room. He's devised a "gasifier" that he says can convert debris into a petroleum substitute that can power this newest in-progress invention. If all goes as planned, Tracy can travel in his mobile bunker without ever having to worry about stopping because it will literally be fueled by destruction. Meanwhile, in Tampa, Fla., Dan is preparing for a mega lightning storm to knock out the power grid by constructing a solar-powered survival station so that, after a catastrophe, he'll have a one-stop prepper's workshop. By harnessing the sun's energy, Dan believes he'll be able to build weapons, cook, purify water and have a long-term solution to power failure. 
Doomsday Preppers: Survival is an Ugly Beast
Premieres Tuesday, November 26 at 9 p.m. ET/PT
Rob has most of his prepper boxes checked: enough food to feed his family for two years, self-made bullets and a stockpile of weapons. But in order to protect his family from Doomsday marauders, he is devising the ultimate booby-trap system. With the help of a neighbor, Rob is securing his Texas property's perimeter with an elaborate system of alarms, traps and defense mechanisms. But when an unexpected tornado hits, Rob goes into instant prepper mode and booby-trap plans must be put on hold. In Tennessee, Greg is preparing for a national financial catastrophe and plans to spend most of Doomsday in an undisclosed location — an invisible tree house miles from city limits where he hopes to be safe from urban looters. If the build goes as planned, Greg and his family will have a tree house 12 feet into the forest canopy, with mirrored paneling so it reflects the surrounding trees, and a stockpile of food, water and ammo. 
**Information, in part. taken from National Geographic Channel Press Release – Julie Frazier PR**
- Survivor Jane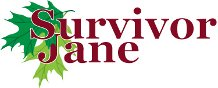 If you have any questions, or would like to see a specific article addressing survival preparedness for women on SurvivorJane.com click here
For Sponsorship/Advertising Contact Information: sponsors@survivorjane.com
Follow me on Twitter @SurvivorJane and on #PrepperTalk where you will find the Largest Community of Prepared-Minded People on Twitter, Linkedin and Facebook!